Release Details
Song Descriptions
Contact Info
Promotional Photos
Radio Interview with Alisa Clancy KCSM FM91.1
Read Reviews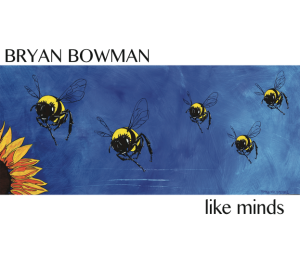 Like Minds reaches #1 spot in Top 15 of 2015, Desert Island Jazz with David May, WHFC and Pure Jazz Radio, Baltimore.
Clearly, a hidden treasure and a gem of an album, Like Minds shines all over.
Ed Blanco – All About Jazz
If you like your jazz straightahead down the line, you're gonna love this vintage hard bop sounding quintet lead by drummer Bryan Bowman.
George Harris – Jazz Times
Bowman understands how strongly soft dynamics can impact the serious listener…
-San Francisco Examiner
Like Minds CD a "noteworthy local jazz release" in KQED's Top Ten Bay Area Jazz Releases of 2015
The Debut CD Bryan Bowman – Like Minds was released on May 5th, 2015! This exciting album of all original compositions features some of the finest Bay Area musicians.
Personnel
Ian Carey – trumpet
Bob Kenmotsu – sax
Matt Clark – piano
Doug Miller – bass
Bryan Bowman – drums
If you would like a copy for press or booking purposes please email bryanlbowman at gmail.com
All Compositions are by Bryan Bowman
©Bryan Bowman Music ASCAP
Release Date: May 5th, 2015
Recording Date – January 31, 2014
Recorded by Dan Feiszli at Fantasy Records
Mixed by Dan Feiszli at What's For Lunch?
Mastered By Ken Lee
Contact Information
bryanlbowman at gmail dot com
www.bryanlbowman.com
Song Descriptions 
Pick You Up – Fast bebop tune in the vein of Mulgrew Miller and Kenny Baron with shades of Max Roach and Clifford Brown.
The Undone – Lively African 6/8 feel. An anthem-like melody reminiscent the rhythmically inspired melodic themes played by Old And New Dreams.
Needles Everywhere – A mainstream jazz tune with an uplifting light tone. The accessibility of this song is deceptive as the harmony has some highly chromatic parallel motion and unexpected resolutions.
Entitled – A brooding 3/4 ballad featuring Harmon muted trumpet and tenor in unison. This tune evokes the late 60's Miles Davis Quintet with a dark and sharply dramatic theme that is ultimately triumphant.
Restless Boy – A lively and modern rock/jazz tune with inspired by the great Miroslav Vitous record Mountain In The Clouds.
Other One – A medium Fast bebop tune incorporating compositional elements of Bud Powell and Joe Henderson, with a completely unique chord structure on the bridge likely never used in the post bop era but surprisingly fitting.
Sleeping Cutie – A medium tempo Bossa Nova. The composition itself and Ian Carey's flugelhorn tone is a nod to the great Tom Harrell.
Baloo's – A straight ahead medium blues in F that reminds one of the strikingly angular melodies of Charles Mingus and Joe Henderson.
Upper Hand – An upbeat rock-jazz tune with a Cedar Walton (Eastern Rebellion) flair.
Like Minds – (Title track) This medium jazz song invokes Wayne Shorter and Kenny Baron.
Border – A subtle piano trio ballad in 3/4 calling to mind compositions of Fred Hersh and Mulgrew Miller.
All compositions by Bryan Bowman. All rights reserved. Copyright 2015 Bryan Bowman Music. ASCAP
For additional information
email: bryanlbowman at gmail dot com
website: www.bryanlbowman.com
Promotional Photos
Click on the images below for the hi-res version