Bryan Bowman – Like Minds is now available on cdbaby, Amazon.com and iTunes.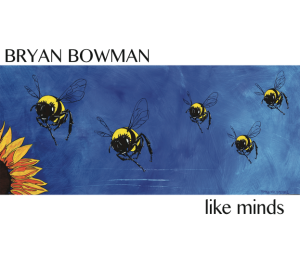 Clearly, a hidden treasure and a gem of an album, Like Minds shines all over.
Ed Blanco – All About Jazz
If you like your jazz straightahead down the line, you're gonna love this vintage hard bop sounding quintet lead by drummer Bryan Bowman.
George Harris – Jazz Times

Personnel:
Ian Carey – trumpet
Bob Kenmotsu – tenor saxophone
Matt Clark – piano
Doug Miller – bass
Bryan Bowman – drums and all compositions
Recorded at Fantasy Studios by Dan Feiszli on January 31, 2015
Mixed by Dan Feiszli at What's For Lunch? Records
Mastered by Ken Lee
Cover Painting by Yvette M. Buigues
heavy black line fine art
510.644.3474
HeavyBlackLine.com
instagram.com/heavyblackline
buigues.tumblr.com
Album Notes
Like Minds is the debut recording by the jazz drummer and composer Bryan Bowman. The set is comprised of unique and modern original music that is at once a logical extension of jazz's tradition and a look into its future. The music is played by some of the finest San Francisco Bay Area musicians who have each accompanied numerous famous American Jazz Artists in their careers.
This mainstream jazz recording is provocative, energetic, heart wrenching and ultimately accessible and truly listenable. The soulful authenticity of this exciting and reflective work speaks clearly to jazz fans versed in the rich music and legacy of our highly treasured African American jazz masters – far too numerous to name. 

The group approaches each new song as they would any standard jazz form – allowing the tuneful yet modern melodies to provide inspiration for lively improvisations sharing the breadth of their combined experience and virtuosity.
Bryan Bowman is joined on this date by Ian Carey on trumpet, Bob Kenmotsu on saxophone, Matt Clark on piano and Doug Miller on bass.
Like Minds is the first opportunity to fully experience Bryan Bowman's original compositions and it promises to be thought of a very listenable and inspired release for 2015.
The new CD Bryan Bowman – Like Minds is now availableon CDBaby, Amazon.com and through iTunes or buy it directly through Paypal by using a credit card or your Paypal account.