Bryan Bowman – Like Minds
Bryan's debut cd is now available! You can buy it on cdbaby, Amazon.com and iTunes. The group features Matt Clark on piano, Bob Kenmotsu on saxophone, Ian Carey on trumpet, Doug Miller on bass and Bryan Bowman on drums and all compositions.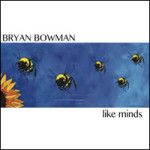 Buy it now on CD Baby!
Hawkeye
Hawkeye, formed by Sam Bevan and Bryan Bowman plays original jazz compositions. The quartet is Sam Bevan on bass, Grant Levin on piano, Masaru Koga on sax and woodwinds and Bryan Bowman on drums.
Read Hawkeye CD Reviews
Jazz Police
All About Jazz
Homespun
This is a trio featuring Grant Levin on piano, Fred Randolph on bass and Bryan Bowman on drums. This group plays mostly original material and unique interpretations of jazz standards.
Mandala – The Music Of Keith Jarrett
This group  performs original compositions by the great pianist Keith Jarrett. The group features Matt Clark on piano, Sheldon Brown on saxophones, Michael Wilcox on bass and Bryan Bowman on drums and percussion.

Sheldon Brown, Michael Wilcox, Bryan Bowman Trio
This dynamic trio led by Michael Wilcox plays original music as well as arrangements of classical compositions by Brahams, Bartok and others. Most recently we performed to a full house at Chez Hanny in San Francisco.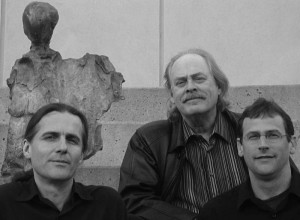 Sam Bevan Group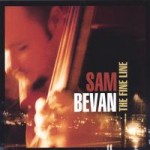 I recorded with Sam on his debut jazz cd, The Fine Line. This date included Mike Abraham on guitar, Ara Anderson on trumpet, Mike Rinta on trombone, Sam on bass and myself on drums.
All Sam Bevan all the time right here! www.sambevan.com
Buy CD's at CD Baby!
Trio Mopmu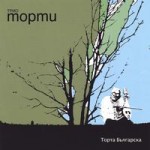 To purchase this cd you can email bryanlbowman at gmail dot com. I'll get a copy to you within a week!
"With all the pizzazz, agility and vitality of a Bulgarian wedding band, yet complementing it with careful sensitivity and finesse, Trio Mopmu always brings conviction and superb artistry to the table. This twelve-track gem, "Torta Bulgarska," weaves and waltzes through jazz and folk idioms, always holding onto its own identity and yet with the open-minded freedom to change that definition at will. There is a solid presence of musicianship and artistic command whether it be a slow, haunting number or one that strictly calls out for a dance floor. Brilliance abounds." – CDBaby
Trio Mopmu is Ryan Francesconi on tabura, Bill Lanphir on electric bass and Bryan Bowman on drums.
Trio Mopmu also features the exquisite voice of Lily Storm, an American singer specializing in traditional world music who combines centuries-old vocal technique with an atmospheric, modern aesthetic.
Frets Magazine Interview with Ryan Francesconi about Mopmu
Loose Wig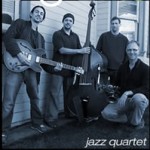 Loose Wig
Loose Wig is:
Fen Fajan – sax
Sam Bevan – bass
Michael Abraham – guitar
Bryan Bowman – drums"Loose Wig Jazz has provided their original and standard jazz melodies during our annual Toast of the Town San Francisco event at the War Memorial Opera House for the past three years. Their engaging performance, which took place on two different levels of the Opera House, added immeasurably to the ambiance of the event, and to its success in general. Ben and his team are not just excellent, creative musicians but also very professional, and a pleasure to work with."- Aileen Robbins, Event Producer, Wine Enthusiast CompaniesTo hear samples and buy cds visit
www.loosewig.com
Buy CDs at
CD Baby.com!
Bryan Kane Trio
This is a trio from way back in the mid to late 90's that I really enjoyed playing with. Brian Kane is a very talented guitarist and 21st Century composer and is currently a professor at Yale.Here's a link to his podcast with some
audio samples
.