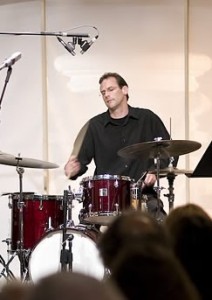 Bryan Bowman is a drummer, pianist and composer in the San Francisco Bay Area.
He has performed with Eric Reed, Mary Stallings, Matt Penman, Paul McCandless, Ratso Harris, Matt Clark, Art Hirahara, Mark Levine, Larry Vuckovich, Noel Jewkes, Sam Bevan, Gilad Altsman, Peter Horvath, Deron Johnson, Peter Barshay, Greg Daugelli, John Wiitala, Gary Brown, Jeff Chambers, Bob Kenmotsu, Sheldon Brown, Jeff Massanari, Randy Vincent, Grant Levin, Ben Stolorow, Leonard Thompson, Scott Foster, Joshi Marshall, Lorenzo Farrell, Fred Randolph, Jessie Marquez, Ravi Abcarian, Michael Wilcox, Don Beck, Adam Shulman, John Wiitala, Hafez Modirzadeh, Goh Nokumura, Dean Reilly, John-Carlos Parea, Masaru Koga, Harvey Winapel, Tom Pattitucci, Steve Heckman, Ivan Milev, Nikolay Kolev, Ryan Francesconi, Bruno Pelletier, Michael Wilcox, Mike Abraham, Noah Schenker, John Shifflet.
He has toured the United States with RCA recording artists Monica Behan and Deron Johnson (Keyboard player for Miles Davis). He has also recorded and performed in the international music scene which such artists as the acclaimed Bulgarian accordionist Ivan Milev and Trio Mopmu with Lily Storm.
Bryan studied music at The Berklee College of Music in Boston, CSU Long Beach, CSU Chico and the Ali Akbar College of Music. He is currently a free lance performer and composer in the San Francisco Bay Area and is an active accompanist for the California Jazz Conservatory both for Institute and community classes and performs there regularly with members of the CJC staff.
Click here for a complete listing of upcoming performances.
For booking inquiries email bryanlbowman at gmail.com